Portable Gamma-Ray Spectrometer (optional Neutron Detector)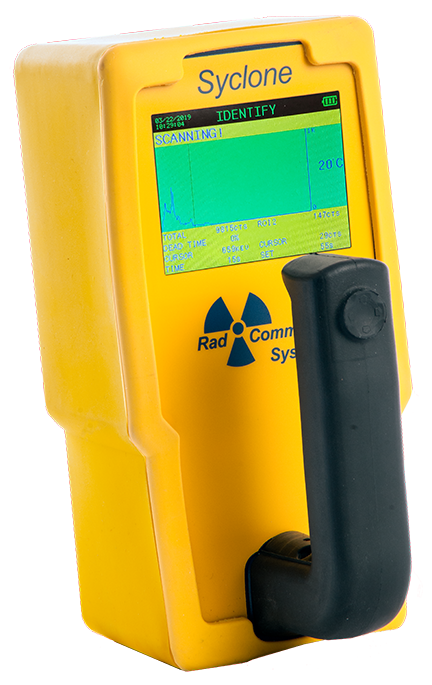 The SYCLONE is a highly sensitive portable Gamma-Ray spectrometer capable of identifying single or multiple isotopes simultaneously. The SYCLONE also provides the user with various functions such as Search & Find, optional Neutron Detection, Nuclide ID, Dose Rates and accumulated Dose Rate.
The mechanical assembly of the SYCLONE is robust and designed for field applications where harsh environments are commonplace. The SYCLONE Gamma-Ray Spectrometer utilizes the highest quality Thallium doped Sodium Iodide crystal.
The SYCLONE operating system utilizes sensible easy to read and follow menus. The multi-position joystick and large colour LCD display provide easy navigation. Detailed spectral information is displayed so that even users without extensive training will understand scan results. Various on-screen messages assist the user when immediate attention is required for issues such as high radiation levels, alarm settings and warning messages.
Options include:
Neutron Detection
GPS
Bluetooth
Automatic energy stabilization (no check source required)
Syclone Conversion Kit for Exploranium GR-135 Identifier. Upgrades GR-135 to a Syclone Handheld Gamma-Ray Spectrometer.
Technical Data
| | |
| --- | --- |
| Detection Type | Nal TI + Geiger-Mueller |
| Gamma Spectrum | 1024 channels |
| Detector Dimensions | 5.9" x 8" x 3.75"  (15cm x 20cm x 9.5cm) |
| Detector Weight | 3.6 lbs (1.6kg) |
| Energy Range | 30 KeV – 3.0 MeV |
| External Operating Temperature | -4°F  to 140°F (-20°C to 60°C) |
| Battery Life | Up to 8 hours |
| Battery Recharge Time | 2.5 hours AC / 6 hours USB |
| Languages Supported | English, Chinese, Japanese, Spanish, German, French |
| Agency Compliance | ANSI 42.34 / ANSI 42.42 |
| Accessories | Neutron detection |