Vehicle monitoring radiation detection systems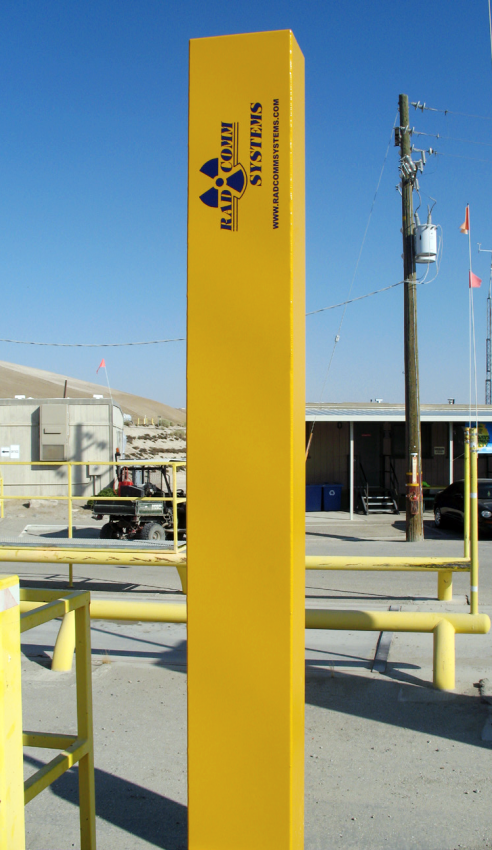 The RC2W34 series of vehicle radiation detection systems have been designed to detect  radioactive material contained in a moving vehicle, loaded with waste and scrap metal material.
The RC2W34 series utilize high quality PVT scintillators and highly sensitive PMT's coupled with high grade electronics and proven signal processing alarm algorithms. The system can re-learn background levels providing accurate scanning, while maintaining a low false alarm rate. If radiation signatures are present in a load of waste material, the system will immediately alarm, alerting the user, if a radioactive source has been detected.
The RC2W34 is available in a variety of sizes and configurations and can be upgraded to RC2000 and RC4000 series software. The most common models are listed below.
The innovative design of the RC2W34 is the result of customers' demands for best in class scanning coverage of vehicles with a low cost of ownership.
Model
RC2W34R-2
RC2034WR-2
System Size (in3)
2,108
2,108
System Size (L)
34.5
34.5
PER/Panel Size (in3)
1,054
1,054
PER/Panel Size (L)
17.25
17.25
# of PMTs/panel
1
1
Detection Sensitivity *
Unshielded (Shielded Source)
 3.3 μCi (116mCi)
 2.8 μCi (90mCi)
*Cs-137 point source at 1 meter from the face of the detector. The radiation exposure level is comparable to a 75mm x 150mm Cs-137 lead sealed source buried in 37.4 lbs/ft3 (0.7 g/cm3) of scrap metal.
Technical Data
RC2W34R-2
RC2034WR-2
Detection Method
Polyvinyl Toluene  (PVT)
Polyvinyl Toluene  (PVT)
Detector Enclosure Rating
NEMA 4
NEMA 4
Energy Range
50KeV to 3.0 MeV
20KeV to 3.0 MeV
External Operating Temperature
-4°F to 122°F (-20°C to 50°C)
-4°F to 122°F (-20°C to 50°C)
Data Output
Pass / Fail
Date, time, alarm report, # of scans,  alarm condition
Remote Connectivity
-
Remote diagnostics,
optional Supervisory software
Languages Supported
English, Spanish, French
English, Spanish, French
Accessories
-
Camera
External Alarm
Supervisory Software
Available Upgrades
RC2034WR-2