portable radiation detection system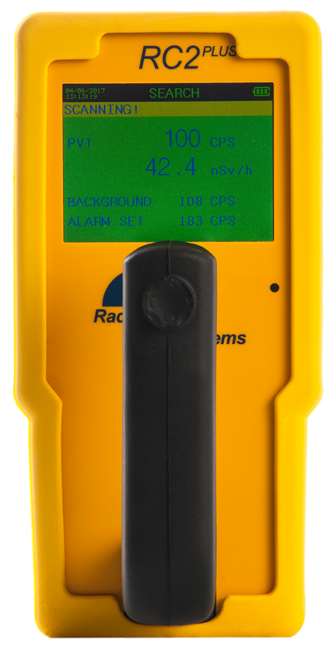 The RC2PLUS is a lightweight, PVT based portable radiation detector that utilizes advanced spectral techniques to enhance sensitivity for reliable radiation detection. Available in two versions – Basic and Advanced.
The Basic version tracks the total count rate produced by all gamma energies during the scanning. The Advanced version utilizes both a PVT scintillator and Geiger-Mueller tube to perform Regions of Interest (ROI) analysis, which allows the operator to see the distributed gamma energies in a histogram form.
Options include:
Docking Station
Radon Detection
Bluetooth
Technical Data
| | |
| --- | --- |
| Detection Type | PVT (+ Geiger-Mueller Tube - Advanced only) |
| Gamma Spectrum | 256 channels |
| Detector Dimensions | 5.9" x 8.25" x 4"  (15cm x 21cm x 10cm) |
| Detector Weight | 3.4 lbs (1.5kg) |
| Energy Range | 30 KeV – 2.0 MeV |
| External Operating Temperature | -4°F  to 140°F (-20°C to 60°C) |
| Battery Life | Up to 20 hours |
| Battery Recharge Time | 2.5 hours AC / 6 hours USB |
| Languages Supported | English, Chinese, Japanese, Spanish, Portuguese |
| Agency Compliance | ANSI 42.33 |
| Accessories | Docking Station |